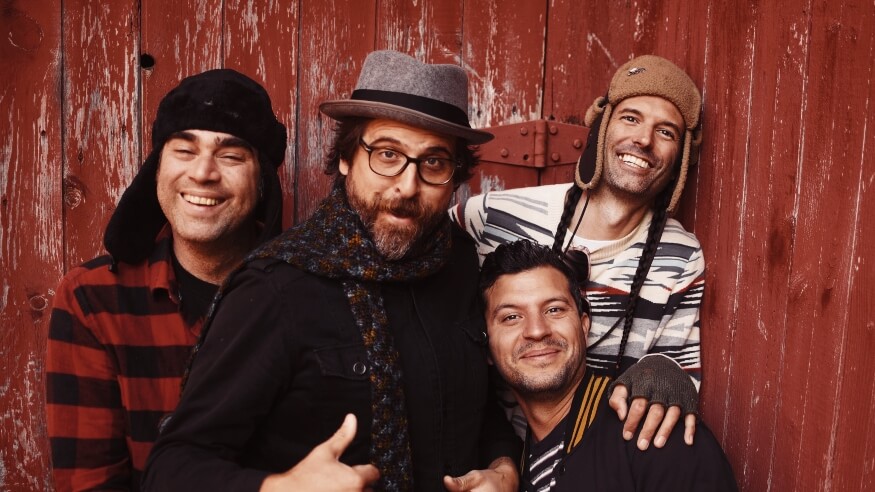 The last time Piebald, the beloved Boston emo/indie act, released new music was 12 years ago. In a world of rapid-fire, on-to-the-next-one media and trends, that time off is a lifetime. How does a legacy-band like Piebald fit in the present? Always a group that has done things their own way, on their own terms, Piebald have picked up right where they left off with their own special brand of fun, quirky rock. 
However, what set these songs apart from past material is the topic at hand; to coincide with a series of holiday shows, Piebald recorded a three-song EP of original Christmas material.
Assembled across a long weekend in September, "Piebald Presents To You, A Musical Christmas Adventure" is a fun foray into holiday cheer. 
"We knew we were playing these Christmas shows, so Luke [Garro, drums] said, 'Why don't we try to cover or write a Christmas song?' So we said, 'Alright, let's try to do it,'" says Piebald guitarist/singer Travis Shettel. "Leading up to [recording] we were sending each other demos and being like, 'Okay, guys, I have this idea for a song, what do you think about it?' 'Make it more Christmas-y! Throw some sleigh bells on it!'"
Many would ask, why mark your return to new material with three holiday songs? As Shettel tells it, the holiday spirit may have helped take some of the pressure off the writing and recording process. "I think, honestly, it was easier for us to write these Christmas songs than for us to embark on a Piebald record right now because we haven't done it in a long time. I think it helped ease us into it a little, making music again."
No strangers to bringing tidings of Christmas joy, the new EP and short run of hometown New England holiday shows are something of a return for the band. "We used to do holiday shows in Andover where Andy [Bonner, bass], Aaron [Stuart, guitar/vocals] and I grew up. We did them at the Town Hall in 2001, 2002, 2003 and 2004. And then we just stopped doing it," says  Shettel.  "So I hope that this is a rebirth of that concept; a new old tradition."
In addition to recording the songs, the band created and built elaborate sets for the EP artwork. Over the course of the weekend, the band worked nonstop like Santa's elves to assemble the sets and props for the photoshoot and live shows.  "Luke and Aaron spearheaded that idea. They were like, 'We're gonna build a wall, we're gonna mount our heads on it.' I was like, 'I don't know if we have time, guys.' We ended up having time, but still, those days were very full. We didn't stop," says Shettel. "From when we woke up till 11 o'clock at night we were doing something related to the release or the Christmas shows. It was actually really fun."
The band won't have too much time to relax after the holiday; soon afterward they will be preparing to embark on a set of West Coast shows as direct support for Dashboard Confessional's 20th Anniversary tour. "We had played shows with him [Chris Carrabba/Dashboard Confessional] before and I do remember meeting him in the late '90s or early 2000s in Florida when we were on tour with New Found Glory," recalls Shettel. 
"We're very lucky, we're very appreciative that he asked. It's pretty flattering. I'm really excited about those shows, we're going to be playing places that are way too big for us [laughs]."
Initially forming in 1994, the band moved through the '90s and early 2000s post-hardcore and emo scenes, growing into their one-of-a-kind sound. Though the band broke up in 2008, they have since gotten back together for the occasional festival. In recent years the band has been a little more active with some short tour runs, but as Shettel says,  "It's not that easy for us to all schedule time to be together."
Still, this year marks 25 years as a band for Piebald, which is no small feat.
As Shettel says, "There are times when other things are happening in life and Piebald can't be on the front burner, that's just how it goes. But we're pretty lucky to have been able to do it for this long. We get frustrated with each other, but for the most part, it's a very loving friendship. We get along well."
That close familial bond is what keeps Piebald moving. As the four of them prepare to hit the road together again, perhaps this is the beginning of a new chapter for the band. "I have a feeling we will make more music. We're going to be traveling in a van for a month together. We're going to be playing music pretty regularly on that tour, so let's try and write some songs. We've been kicking it around and we've just gotta kick it around more."
Piebald will be playing two sold-out shows in town this week at Great Scott, Wednesday, Dec. 18 and Saturday, Dec. 21. 
Listen to '(All I want for Christmas) is to Rage with My Friends' by Piebald below…